Getting married surrounded by the beauty of nature is something at the top of the wedding wish list for many couples. And for all the wonderful gifts Mother Nature gives us, we must be patient with her unpredictability. After all, she is the boss. To help you prepare for an awesome outdoor wedding we've pulled together some of our favorite tips for pulling off a gorgeous day that's comfortable for you and all your guests.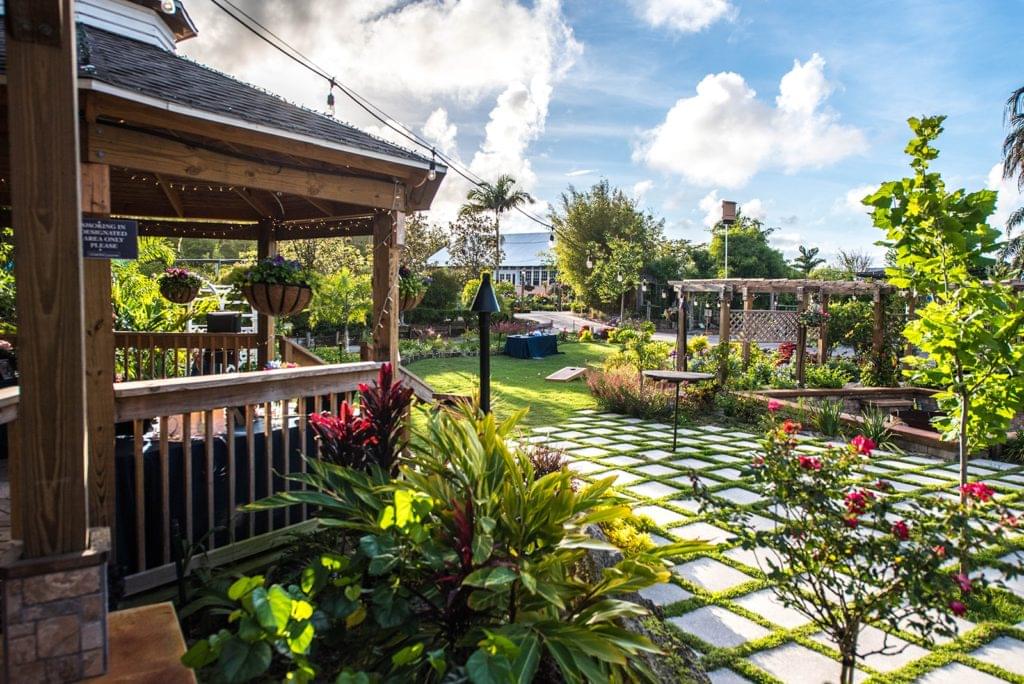 1) Choose your shoes.
If you're getting married in a big outdoor area, you'll want to be comfortable walking around (and dancing!). Also, keep in mind, if you're going to be on grass during any part of your day those super cute stilettos will sink right into the grass and make it difficult to walk (not to mention get mud all over the heel).
These stilettos are fierce…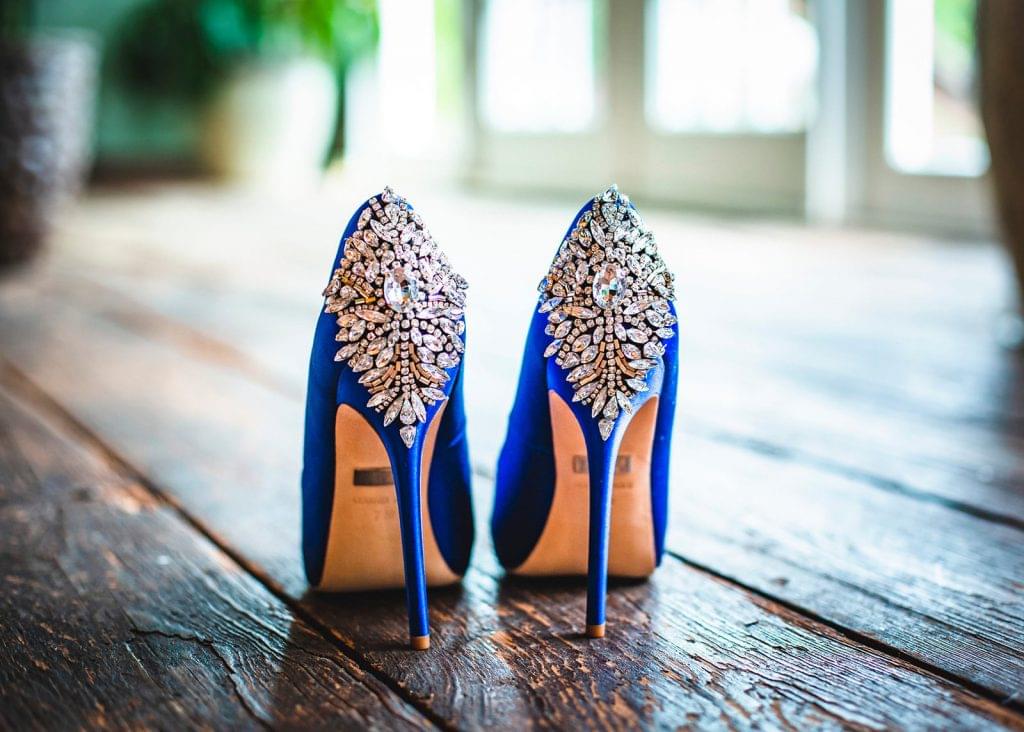 But so are these adorable jeweled sandals…and these won't sink into the grass.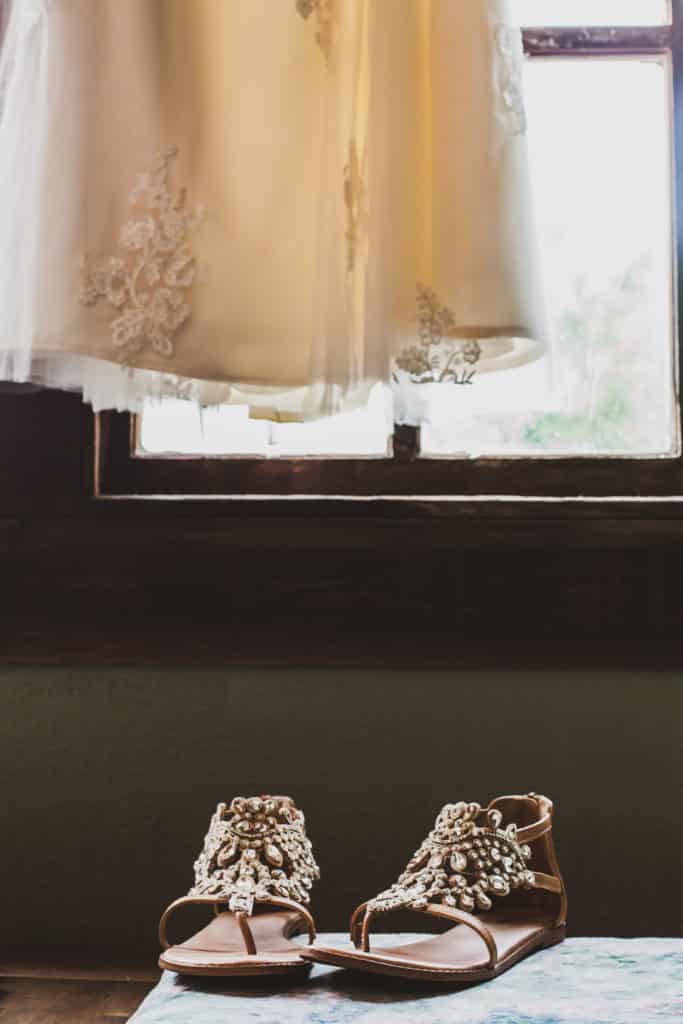 If you absolutely cannot imagine getting married in anything other than stilettos, do yourself and your bridesmaids a huge favor and purchase these heel stoppers to prevent sinking into the grass and ruining an amazing pair of shoes along with your grand entrance.
2) Think about a beverage station to welcome your guests.
Whether the weather is chilly or hot, a welcome beverage can warm up or cool down your guests as they arrive to await your grand entrance! Think about hot cider or cocoa for a cold weather wedding or ice tea, water and lemonade for a warm weather wedding.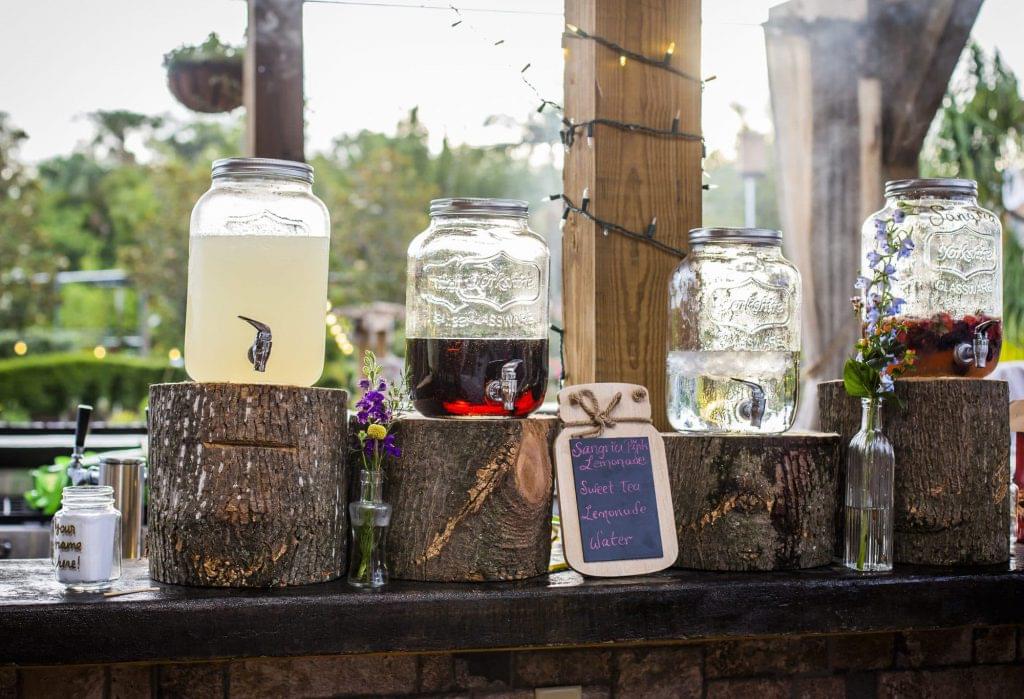 You could even enlist the services of a mobile bar like our friends, One Night Barstand! This cute trailer can pull double duty for pre-ceremony and cocktail hour!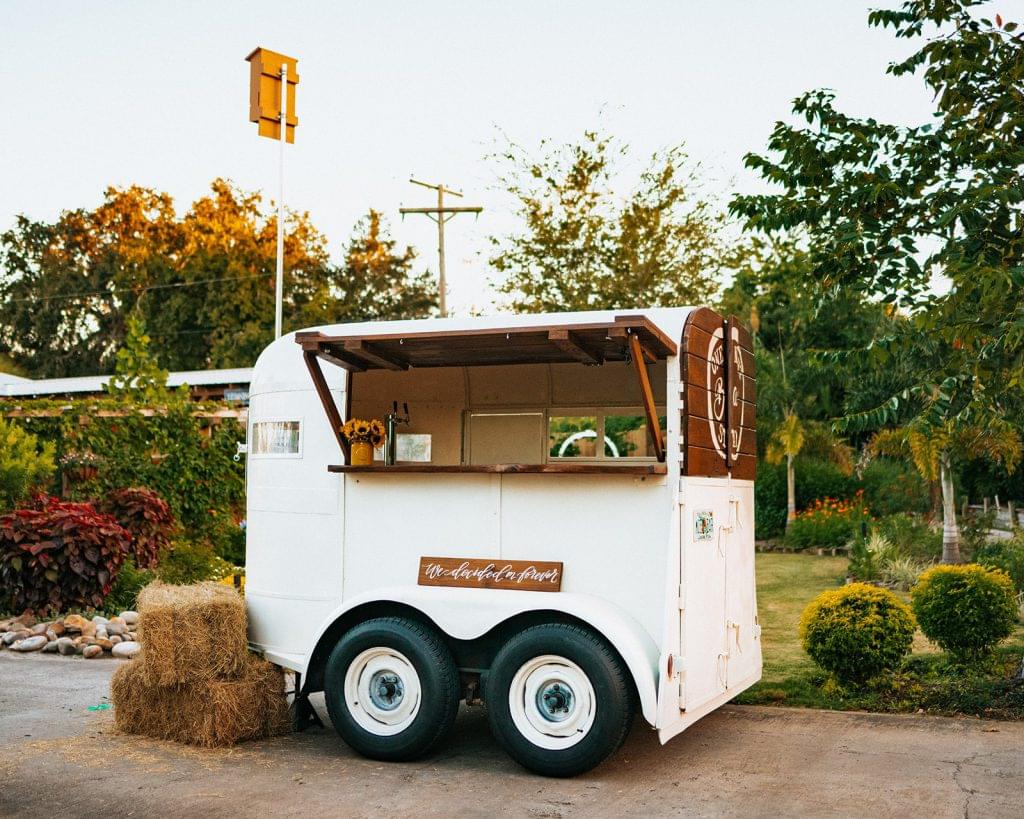 3) Remember the wind when placing your place cards.
If your reception venue is outdoors like Rockledge Gardens Weddings' coverd pavilion you'll want to remember that wind is a thing. And if your place cards are just paper they WILL blow away if it's at all windy. Think about using something with a little weight to it. Cute and clever ideas we've seen include painted rocks, wooden fans, mason jar beer glasses, or, our personal favorite, succulents! Bonus: now your place cards double as your wedding favors!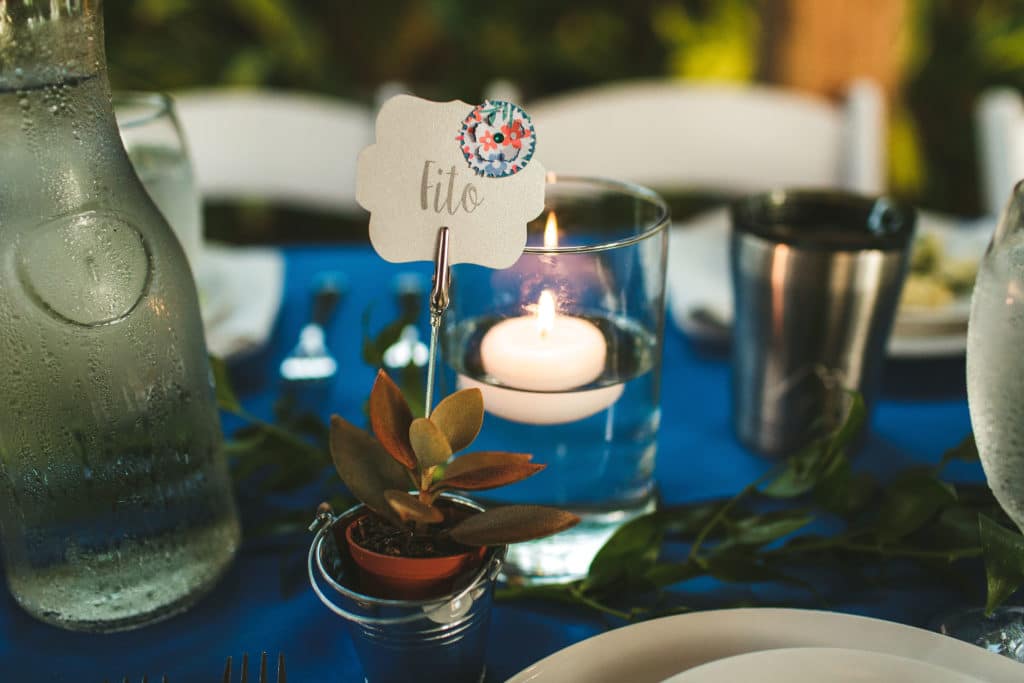 4) Think about lap blankets for cold weather.
Once I was a bridesmaid in an outdoor wedding in Texas in December. Like our weather here in Florida, during that time of the year it's just as likely to be hot as cold. In anticipation of cold weather, the mother of the bride purchased inexpensive blankets for the guests to use during the ceremony. But then it turned out to be 80 degrees on the wedding day. Instead of returning them, she donated them to a local homeless shelter and felt great about giving back to the community as part of the wedding!
5) Choose a weather-proof cake during hotter months.
Nothing holds up to hot weather quite like fondant. And you can do so many cool, creative things with it! If you're having an outdoor wedding during a warm-weather month (or almost any month in Florida), consider a fondant cake.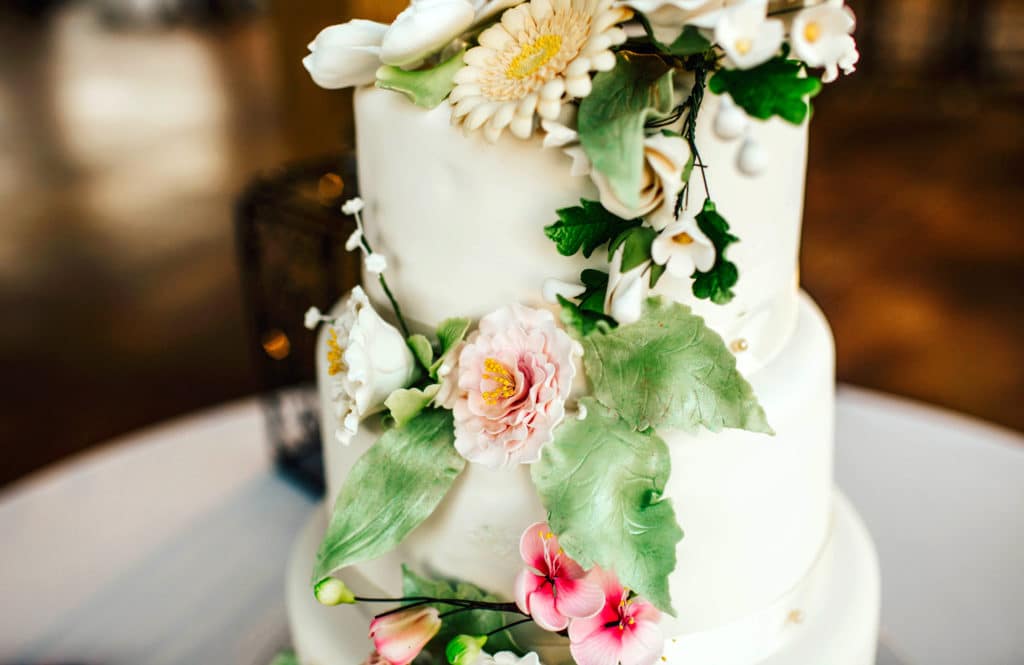 6) Have umbrellas on hand (just in case).
No matter what they say about rain on your wedding day being good luck, no one really wishes for it, especially if your wedding is outdoors. But it's best to be prepared, just in case. Here at Rockledge Gardens we have 30 beautiful wide white umbrellas to make sure you stay dry walking down the aisle and beyond!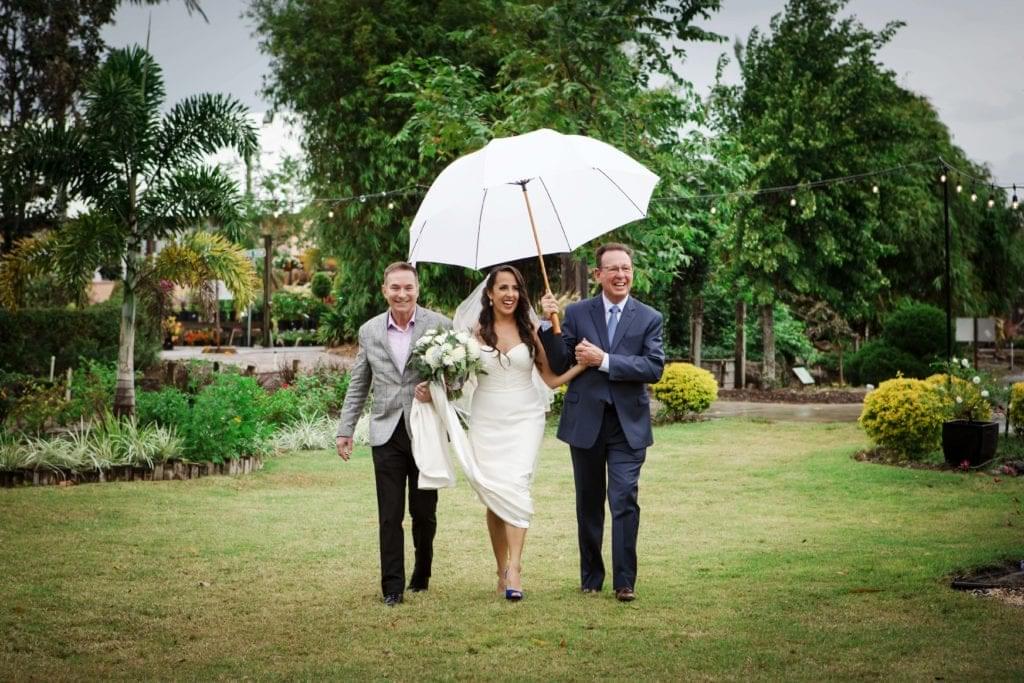 7) Bring on the s'mores!
If your outdoor wedding venue has a fire pit, it's a great opportunity to roast s'mores! Just make sure to keep the chocolate in A/C until it's go time!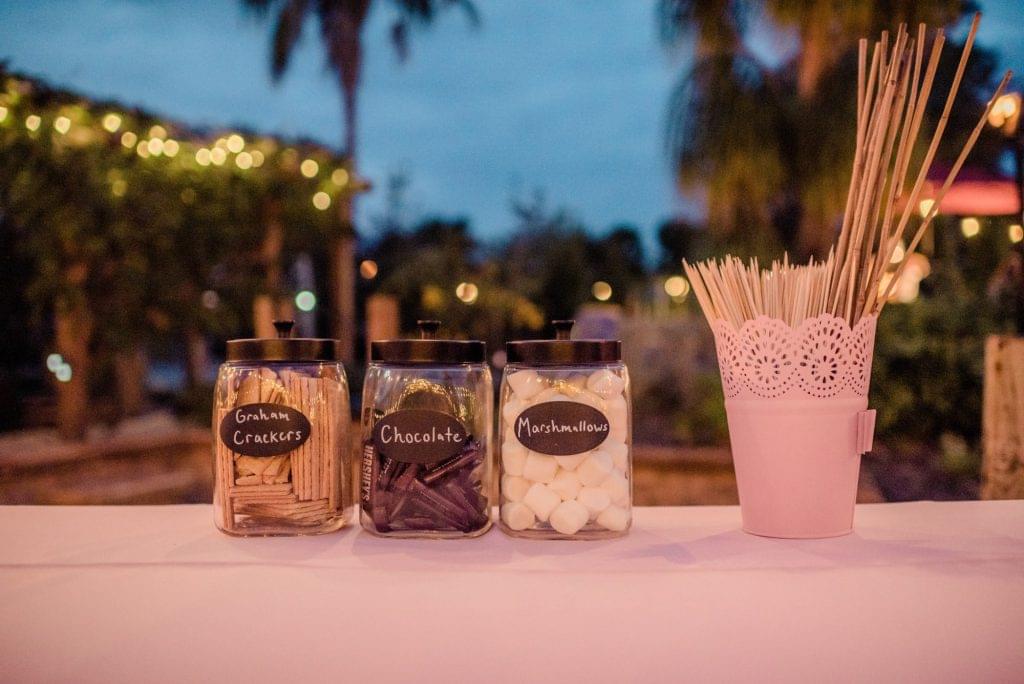 Hopefully these tips will help you have a beautiful, fun, and comfortable wedding where Mother Nature plays an amazing supporting role. Happy planning!