Although Rockledge Gardens has been a fixture in Brevard County as a plant nursery since 1962, we've only been a wedding venue since 2017 when we unveiled The Harry and Mary Witte Learning Center Pavilion and Gardens. But long before that, before the dream of becoming a place to say "I do" was even a twinkle in our eyes, forever began here for Bernie and Carol.
Bernie retired from Rockledge Gardens three years ago with the title of our longest-standing employee at 47 years working here! In the midst of his 47 years he met his bride Carol and got married. Here's Carol's story of that day, our very first wedding in the gardens: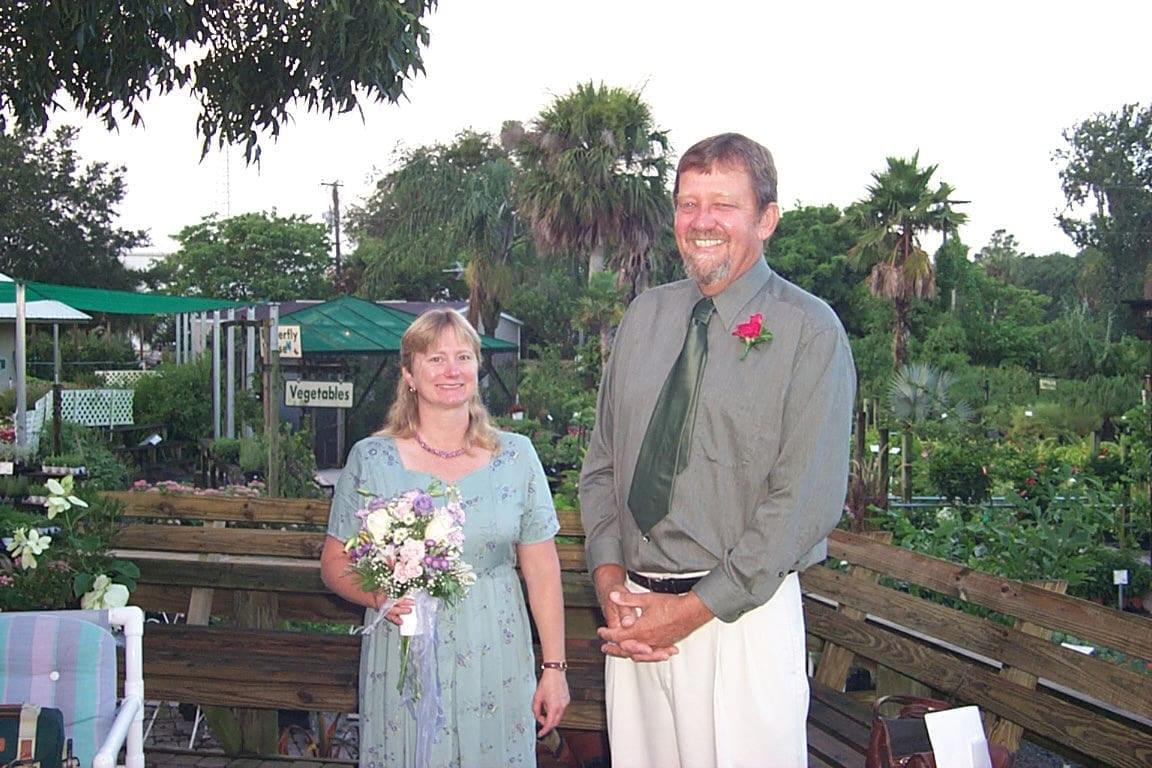 Bernie and I met at Rockledge Gardens in December 1999.  He worked in the Production Department growing trees and a mutual friend of ours decided to be a matchmaker.  We hit it off immediately and he proposed seven months later.  We had planned on going to the courthouse to get married but as soon as Theresa heard that she asked if we wanted to get married at the nursery instead.  We thought it was a great idea since that is where we had met.  Theresa and a couple of coworkers at the nursery planned it all for us including setting up and decorating an area for the ceremony with a flowery trellis and a food table.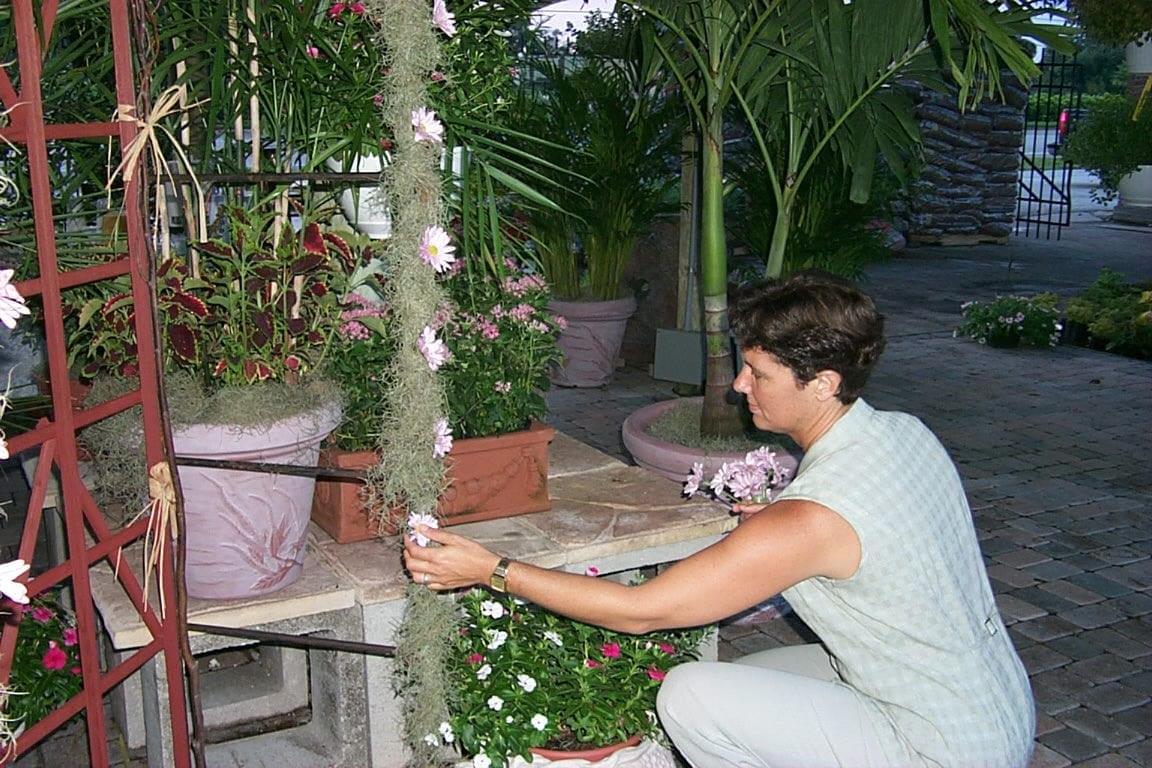 At that time Rockledge Gardens had a florist whose husband was a minister and a friend of Bernie's.  He wrote a beautiful ceremony for us and we exchanged our vows.  The wedding was early in the morning so we had a breakfast of fruit, pastries, juice, and coffee instead of the more traditional lunch or dinner.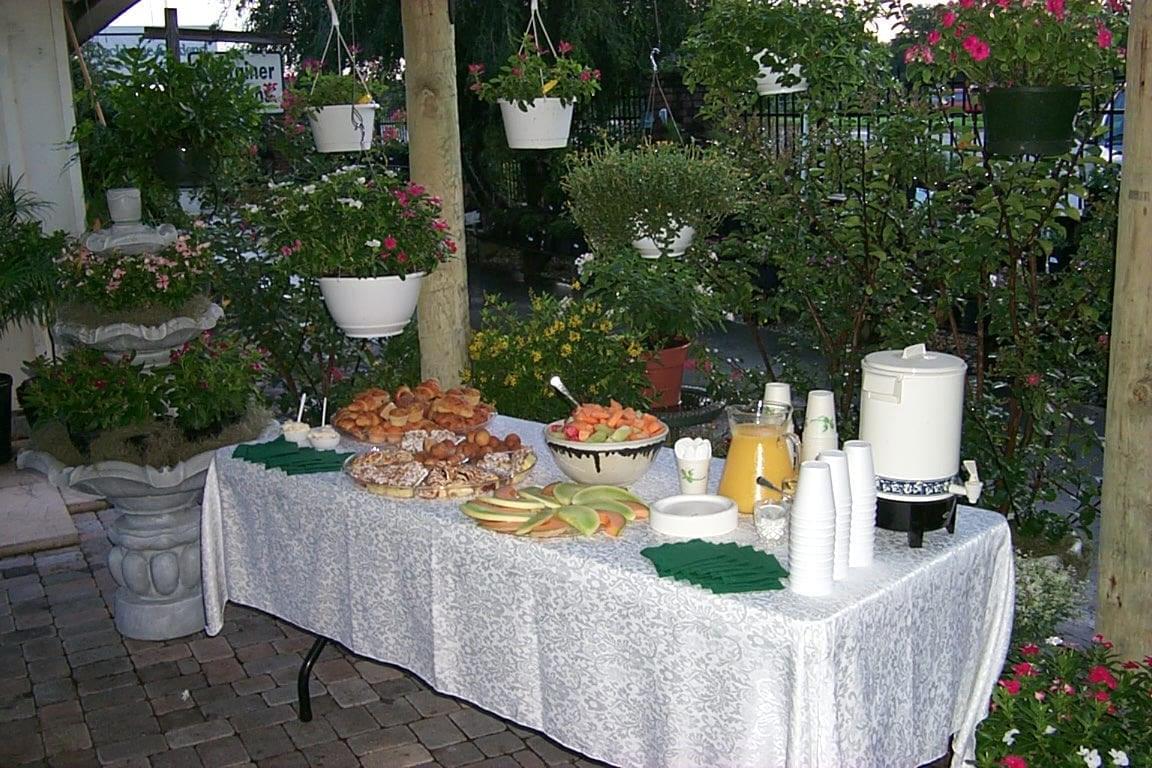 Getting married at Rockledge Gardens was a wonderful way for us to start our lives together (especially since we actually met at the nursery!).  A beautiful setting, our friends, and a casual atmosphere combined to make a day that we will always cherish.  
Thank you for sharing, Carol! We've come a long way but we still do our best to always make weddings a day couples will always cherish!