We are constantly surprised and delighted by the creativity of our couples and the sweet touches they've brought to make their weddings unique to them. Today we've pulled together some of the cleverest wedding ideas we've seen executed here. Hopefully these will spark your imagination and get your creative juices flowing for your own wedding magic!
1) Make your guest book something you'll use and see more than once in a blue moon.
I put a lot of effort into making my guest book for my wedding, and while it holds a place of honor on our bookshelf, I've only looked at it maybe twice in the seven years since my wedding. So why not get creative with your guest book and make it something you'll interact with regularly? Jeff and Leah had all their guests sign a Jenga piece, now they'll be able to remember their wedding each time they play.  Sammy and Riley had each guest write something on a Christmas ornament at their mid-December wedding, now they'll be reminded of everyone who came to celebrate their special day every holiday season!
2) Speaking of games… have them at your wedding.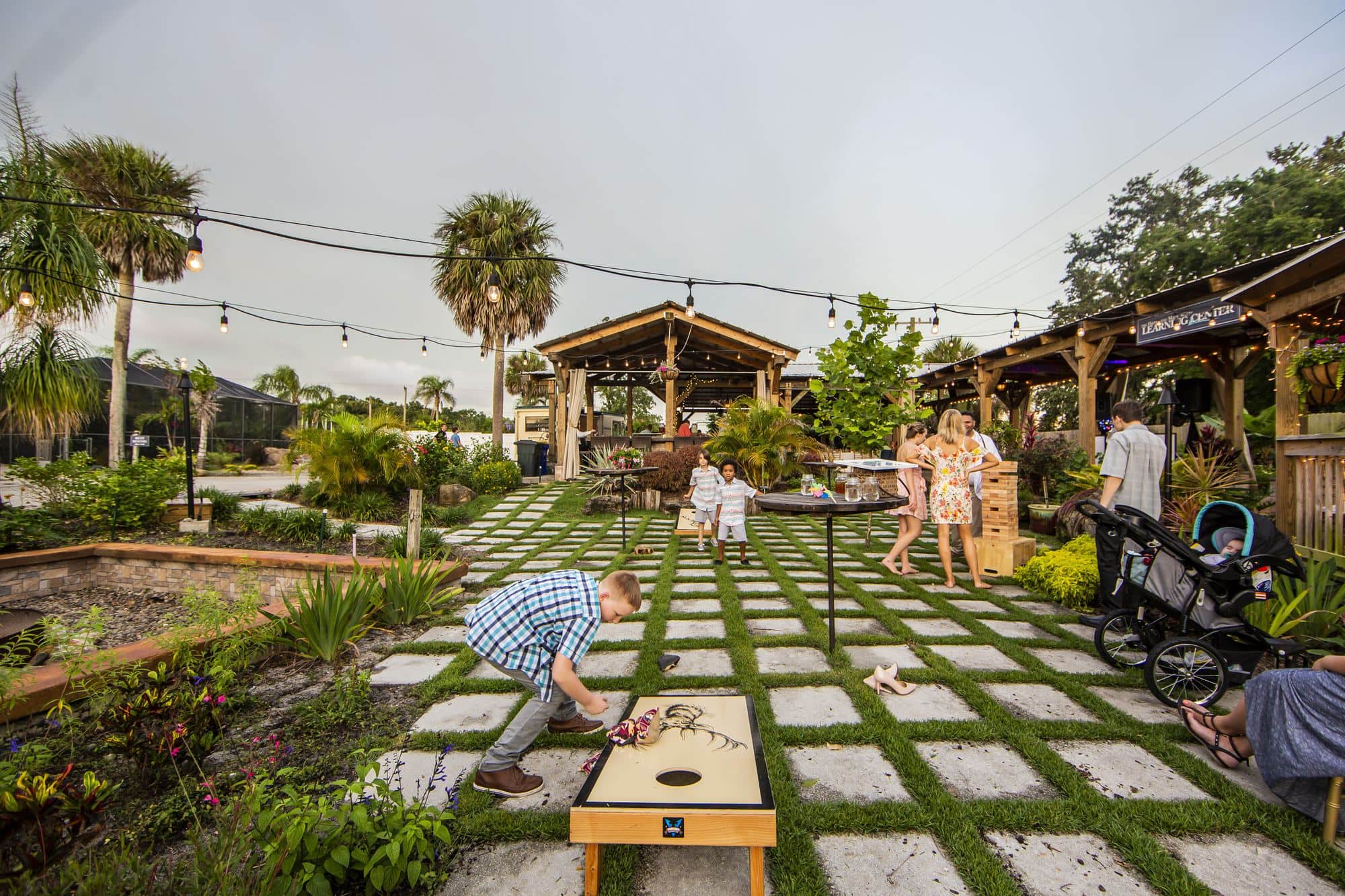 Even if you are always on beat like Beyoncé, chances are, at least a few of your guests are not dancers. Games are a great way to give these folks something fun to do where they can be social without feeling pressured to get on the dance floor (pssst…we've got corn hole and giant Jenga that we'll set up for you;)
3) Food truck wedding!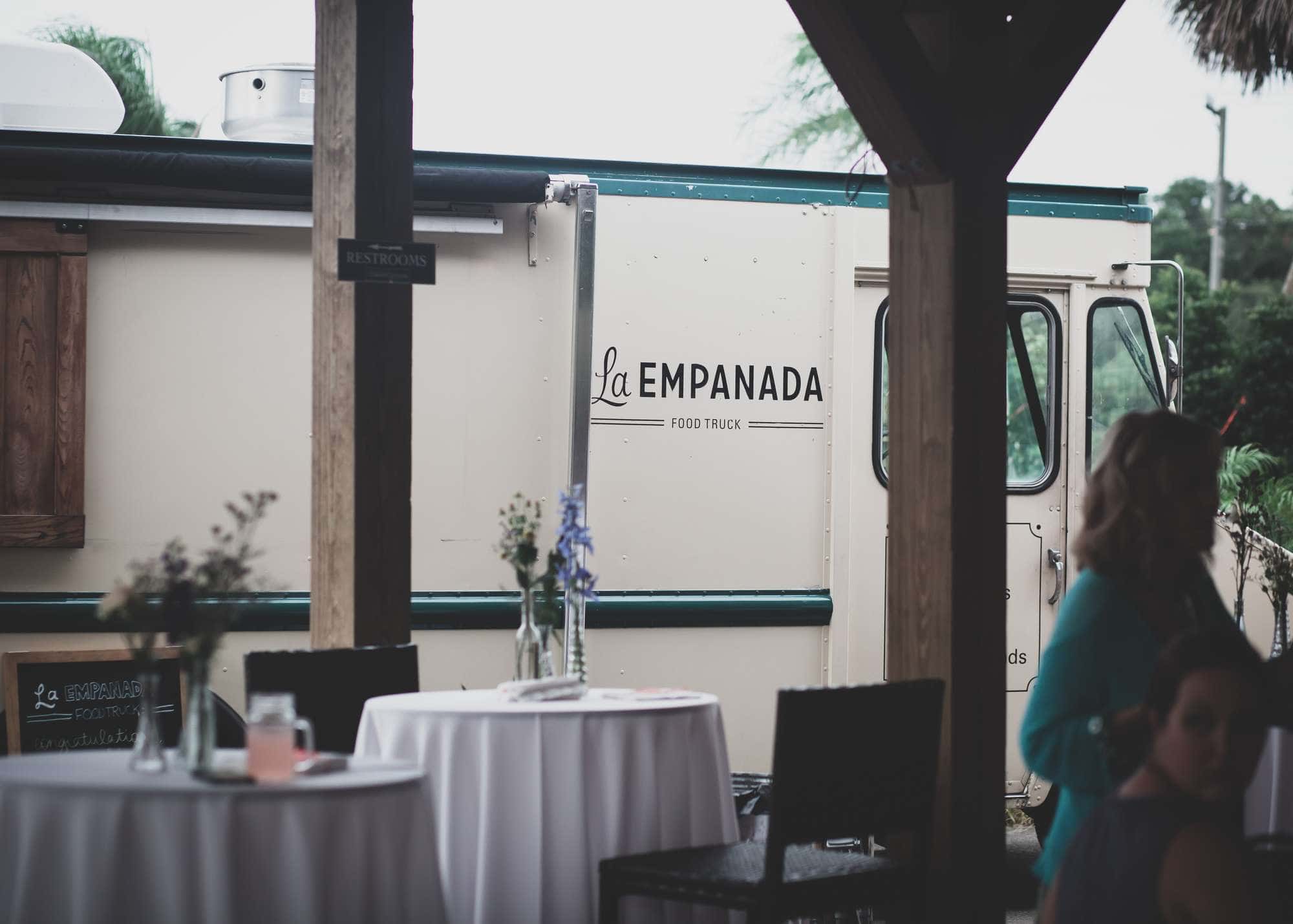 We are big fans of food truck weddings for a few reasons. For one thing, they are very cost effective and can save you thousands over traditional catering options. We also love that they are self-contained and so you don't have to save any room in your floor plan for a buffet (more room for dancing…or games!). But possibly one of the best reasons of all (beyond the just plain fun of it), is that you can try and try and try before you buy. Rather than setting up high-pressure tastings for you wedding feast, hit up festivals and farmer's markets in your area to try out the offerings. This gives you lots of excuses for low-cost, fun, date nights before your wedding as you seek to discover the mobile food vendor of your dreams.
4) Add a few unexpected vendors to the mix.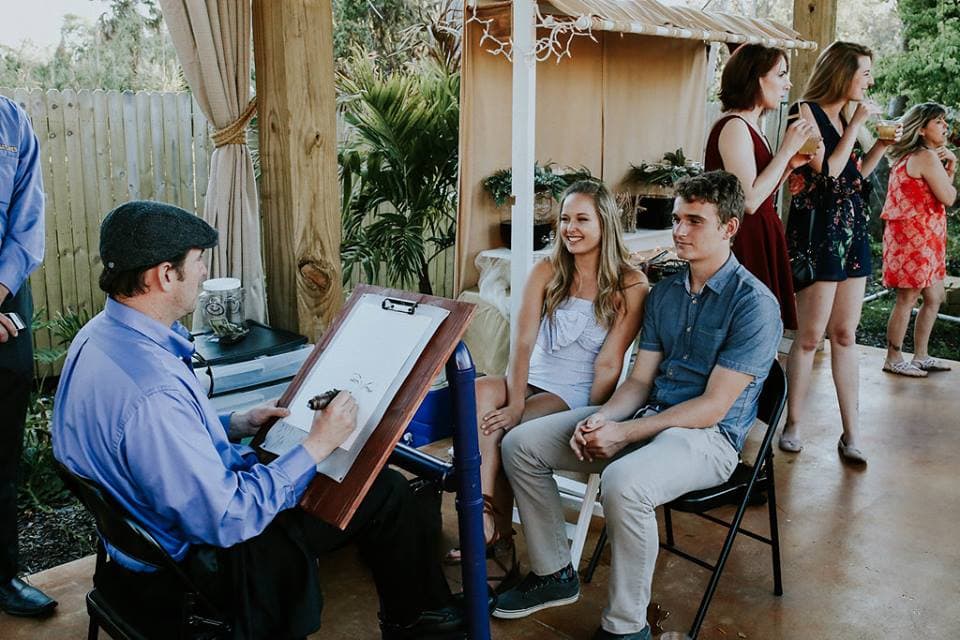 Last year at a friend's wedding in Dallas I met The Party Poet. She sat in a corner of the reception with her typewriter and pieces of pretty paper and guests were invited to visit her to have a custom haiku written especially for them on the spot. Mine and my son's poems still hang on our refrigerator…I've been meaning to have them framed.
Lisa and Thomas hired Gregatures Caricatures to create hilarious likenesses of any family and friends brave enough to sit in the chair. Throwing an unusual vendor into the mix can create an experience your guests will never forget.
Related…the wedding that had The Party Poet also had a cotton candy machine, and that's the thing my son (who was three at the time) will never forget. He now expects that all weddings we attend will have cotton candy.
5) Pre-address your thank-you notes.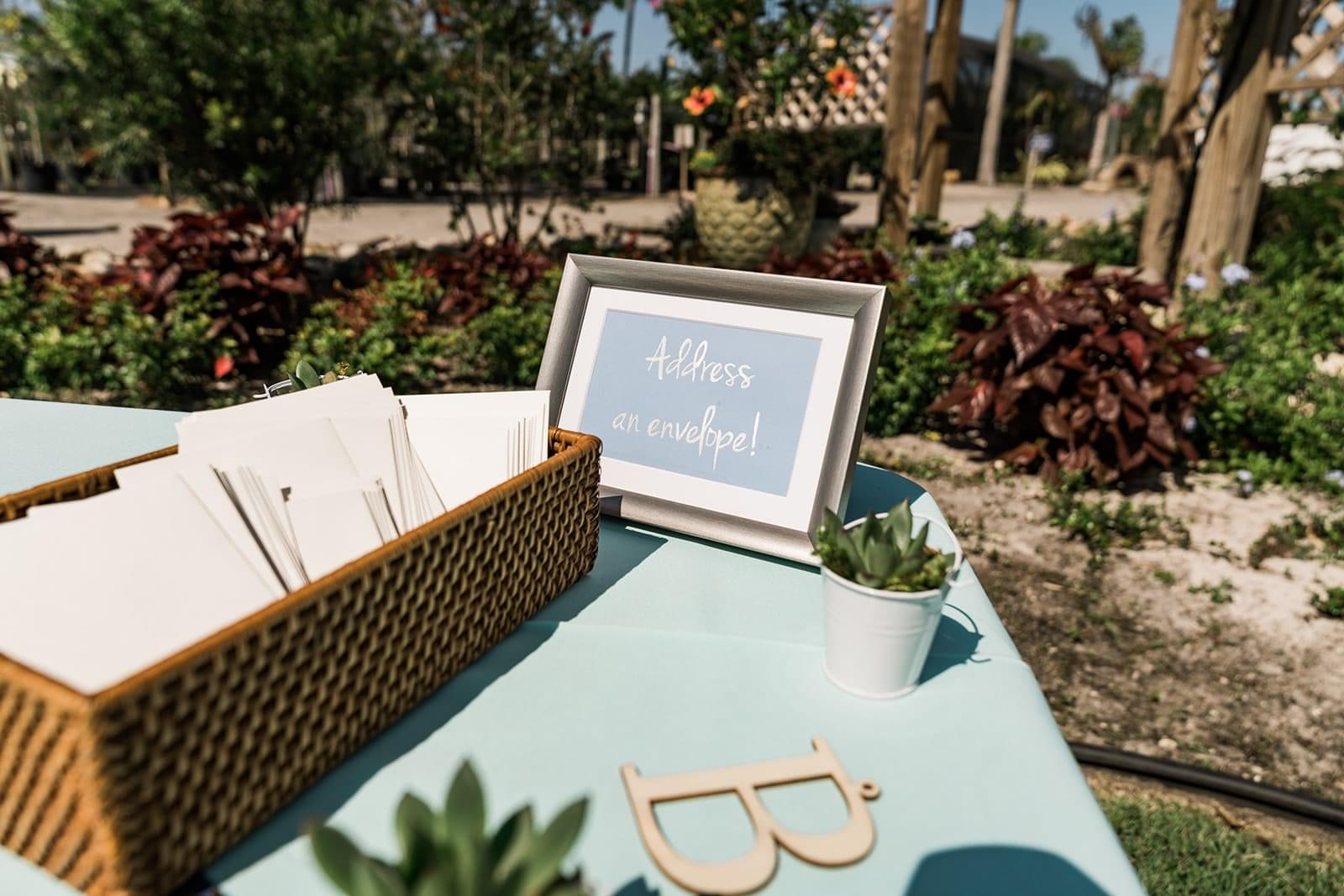 I heard this piece of advice before my wedding and acted on it and when it came time to send thank-you notes, I was so glad that part was already done and I felt so smart and on top of things. Or you could be even smarter, like Maris and Aaron were, and have your guests address their own thank-you note! This way not only to you avoid hand-cramping, you are 100% sure that the card will be headed to the correct address. Pro-tip: you should send a thank-you note to everyone who comes to your wedding, even if they didn't get you a gift.
6) Let your pooch come to the party.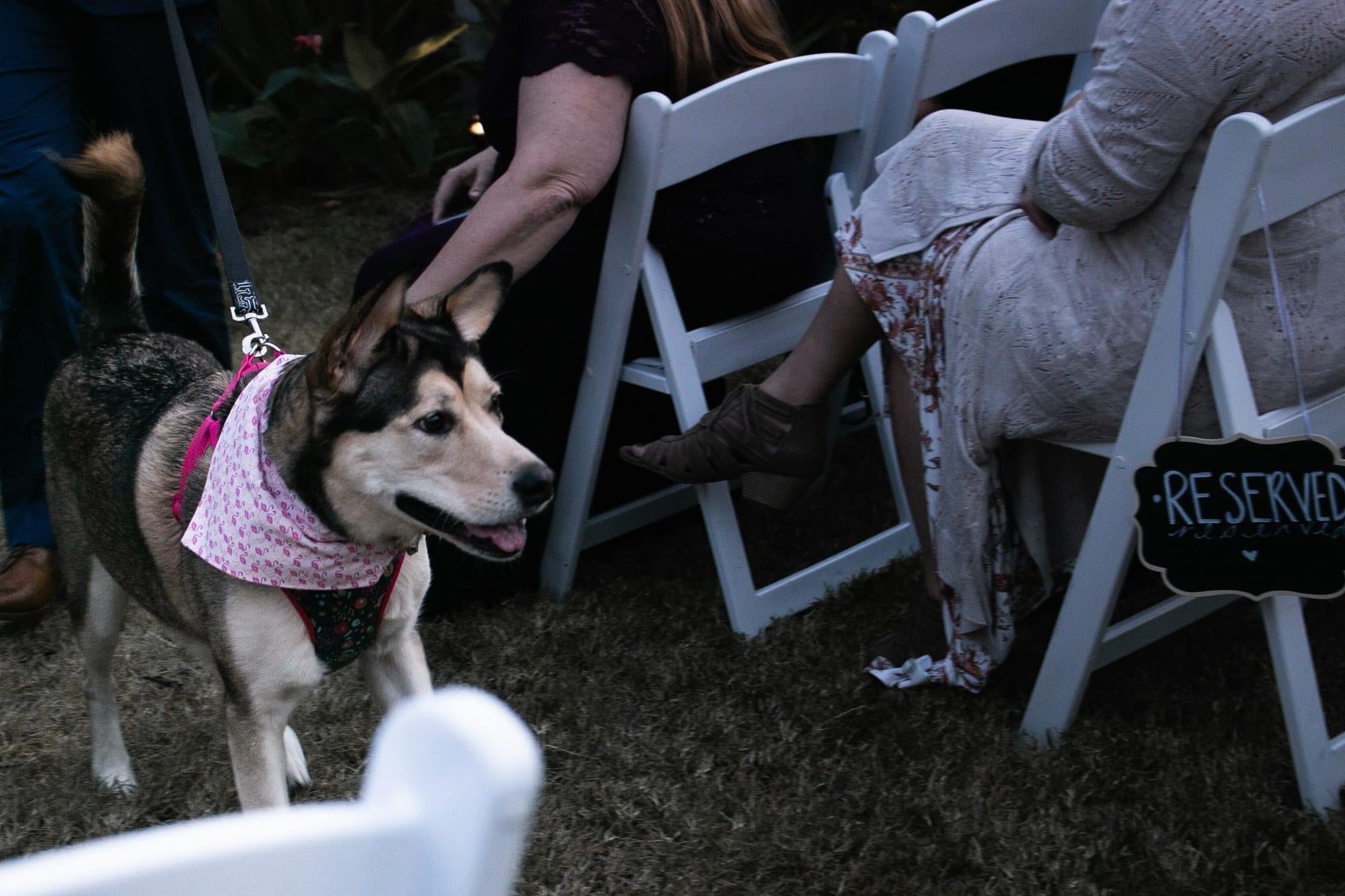 I mean, can you really imagine your big day without this very important member of the family? Find a venue that's dog-friendly and let your furry friend join the fun! (Shameless plug…Rockledge Gardens is a dog-friendly venue).
7) Take the mic.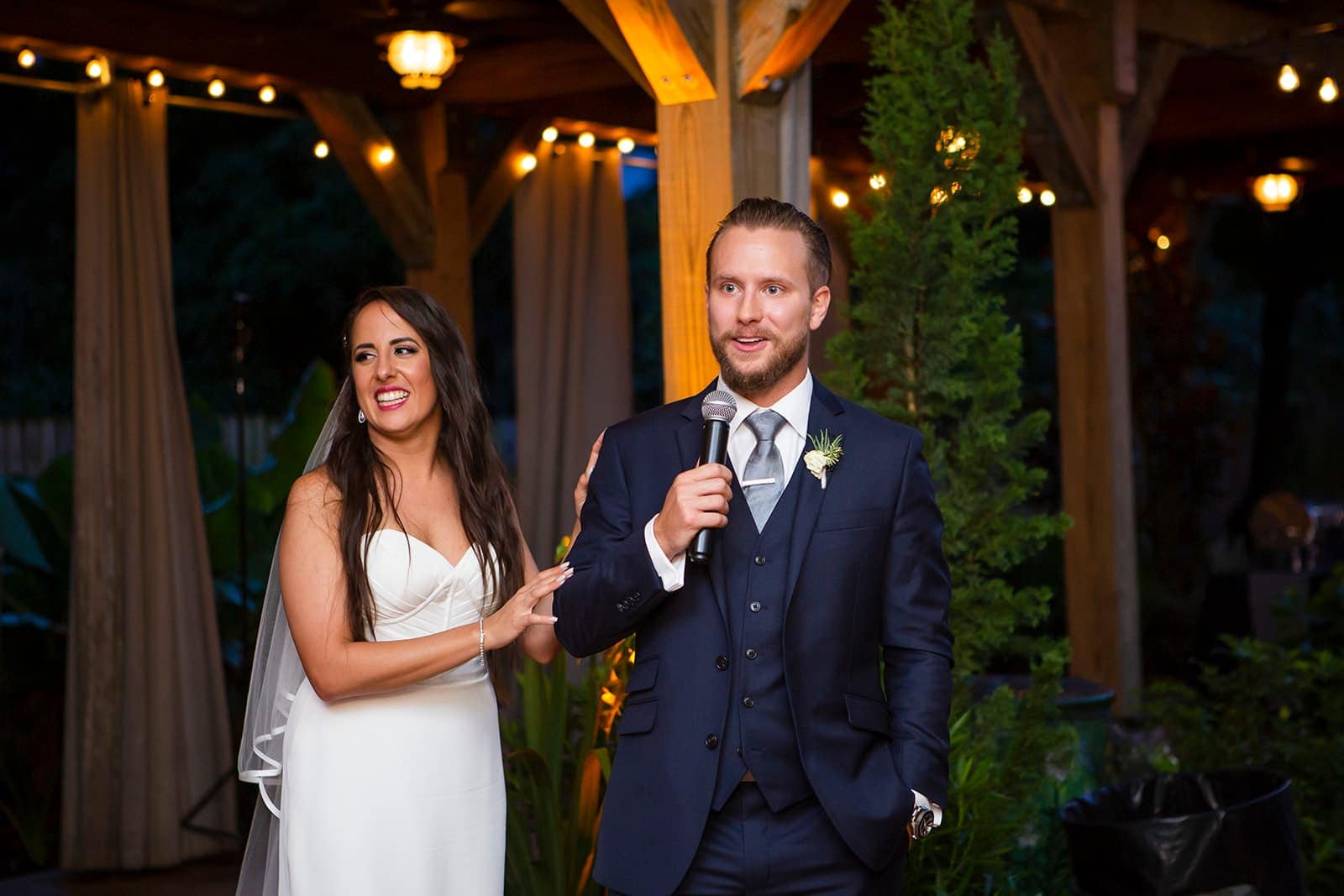 This may not be a new or clever idea but we thought we'd mention it because it happens surprisingly rarely. You are 100% allowed to say something to the crowd at your own wedding. Thank everyone for coming and get a good look at everyone who came to celebrate you!
8) Kilts!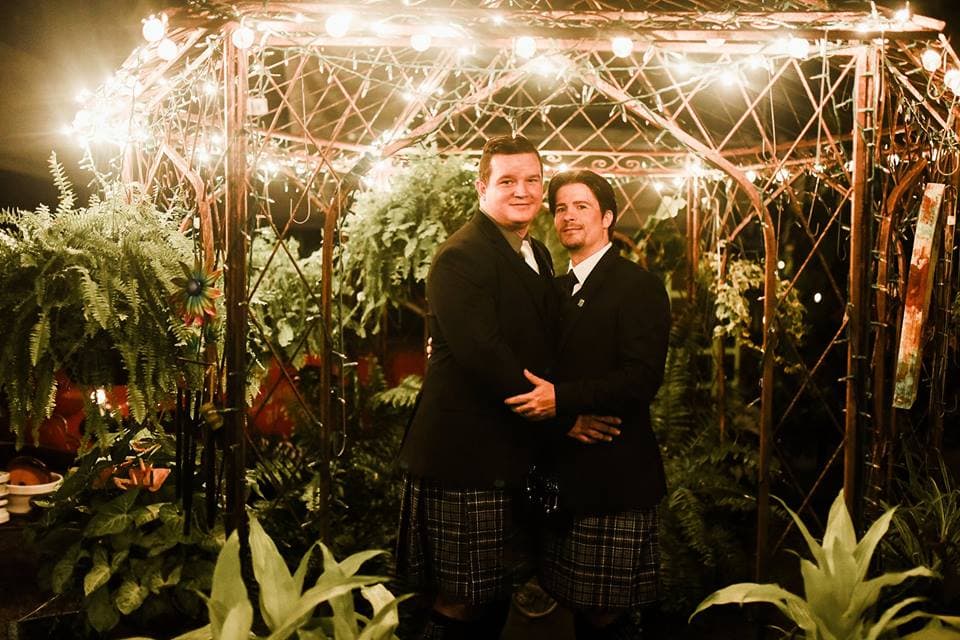 Gents, this is for you. Life affords few opportunities to experience the glorious sensation of wind between your legs in public. If you have any Celtic heritage at all, milk it for all it's worth and wear the kilt. At an outdoor wedding in Florida, there does not exist a more comfortable option.
9) Dessert Variety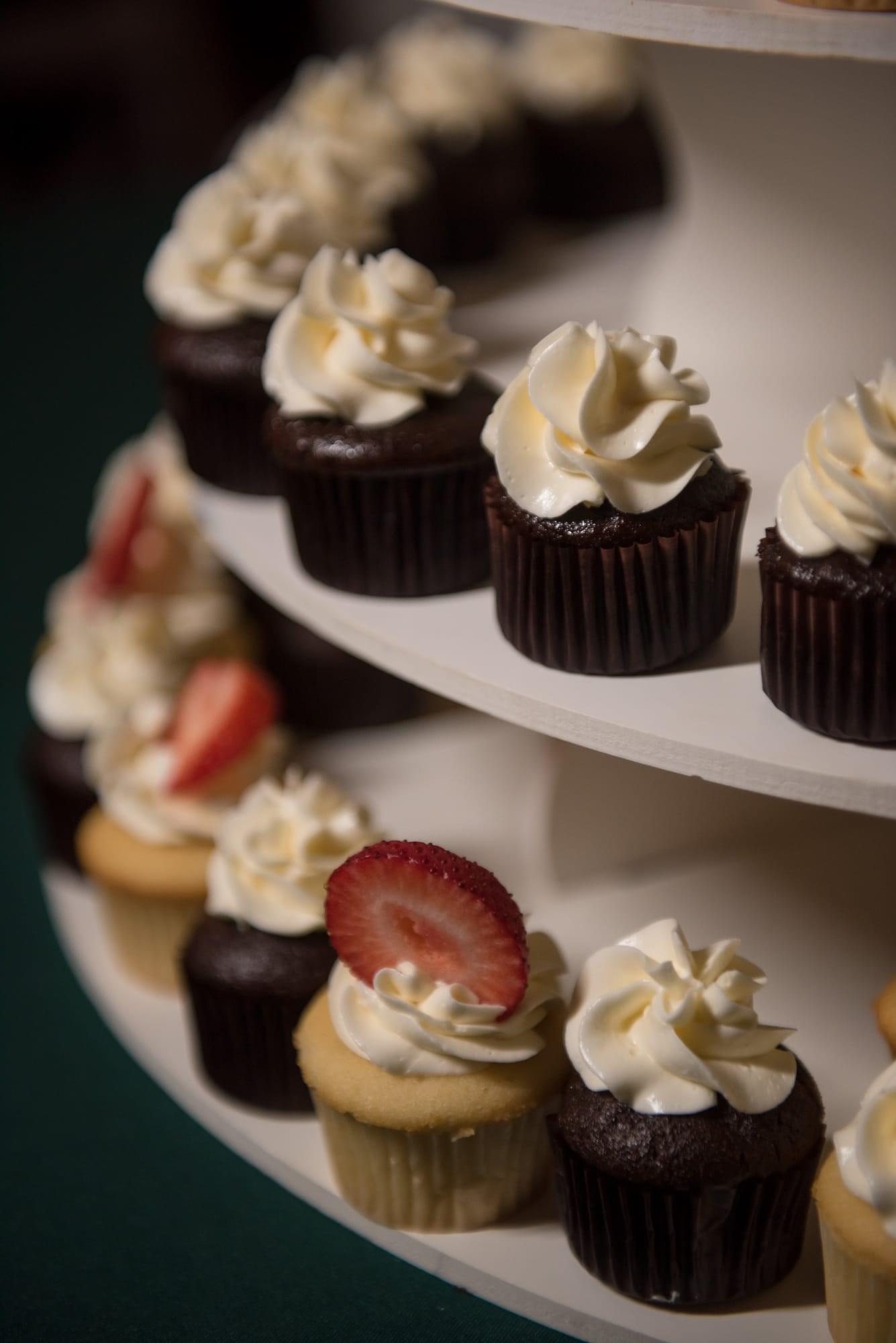 As a person with a gluten allergy, I'm more or less resigned to not being able to eat dessert, especially at a wedding. So you cannot imagine the overwhelming joy I felt at a friend's wedding last April when I discovered that gluten-free cupcakes were part of the dessert bar. You too can be a hero for your friends in the realm of dessert. I'm not saying that you have to take every possible dietary restriction into account but a little effort goes a long way and your guests will be so touched that you thought to be inclusive.
10) Speaking of desserts… s'mores!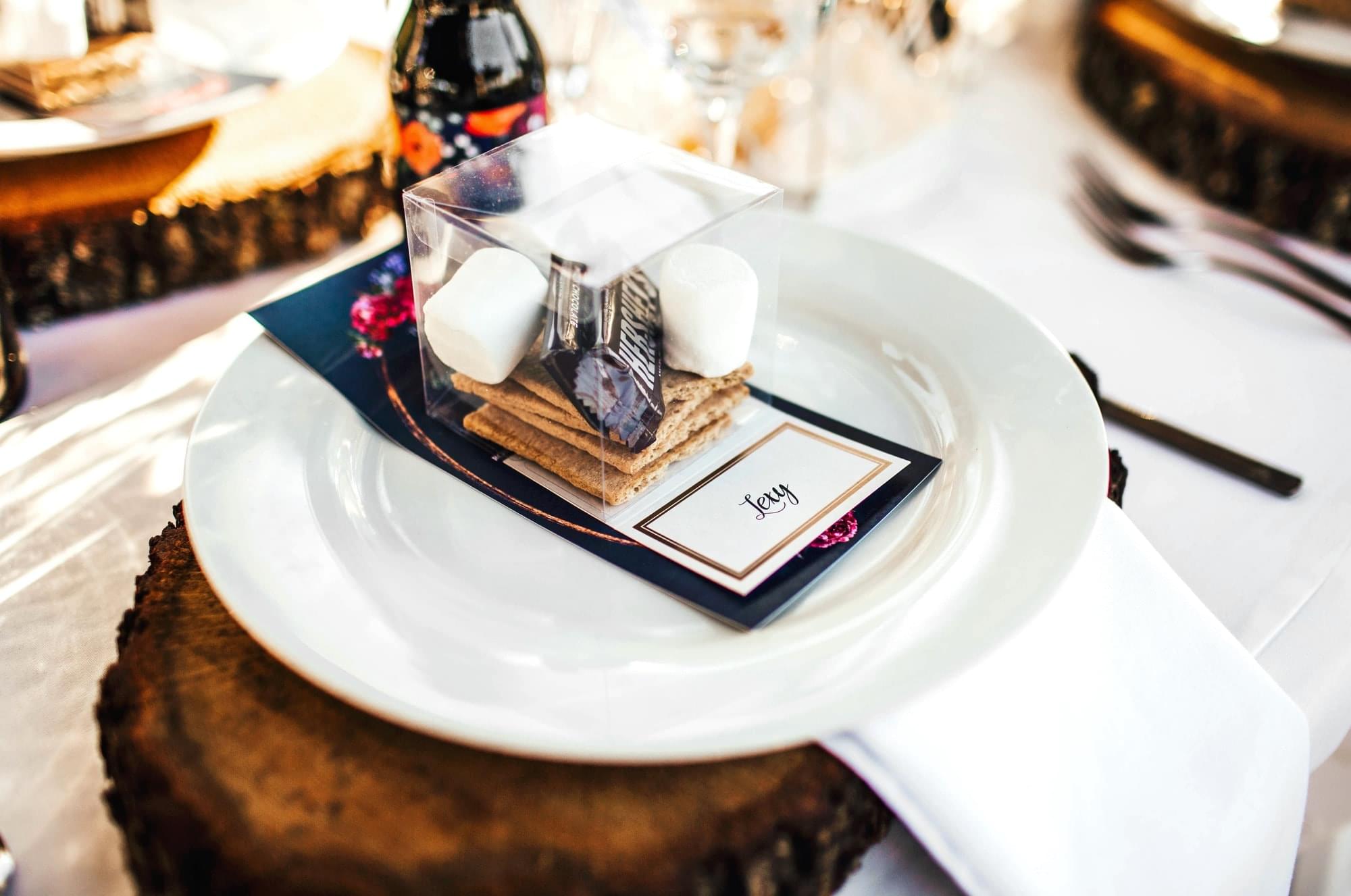 Take advantage of our roaring fire pit to roast marshmallows for everyone's favorite treat, s'mores! You can get fancy like Tiffany and Nathan did with individualized kits or simply put the supplies out on a table next to the fire.
11) Anniversary Piñata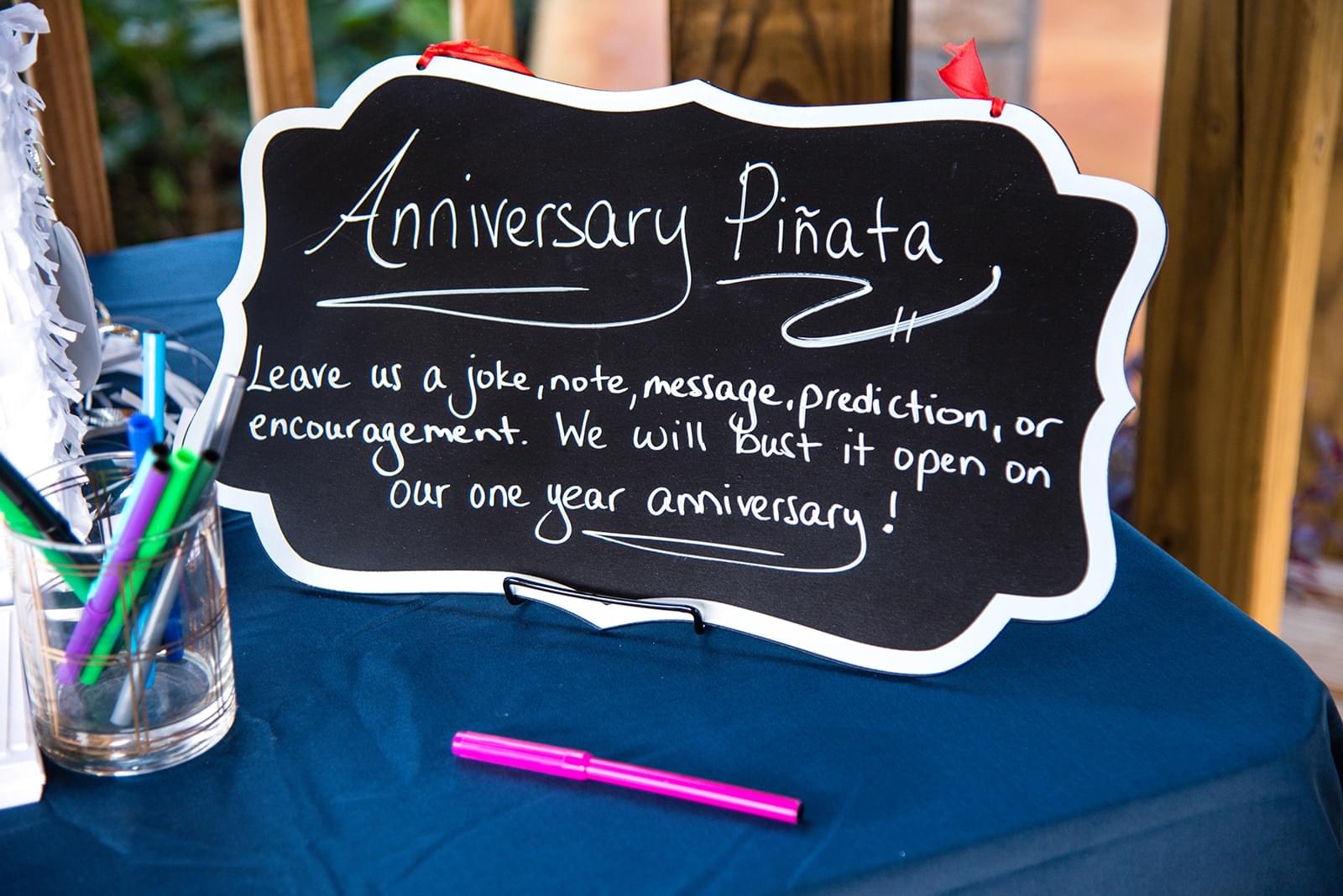 Love this idea from Jeff and Christine's wedding last year. They had a piñata that they encouraged guests to fill with notes, messages, jokes, etc. They plan to bust it open on their one-year anniversary. Sounds like a fun anniversary party!
12) Create a wedding hashtag… and really encourage people to use it.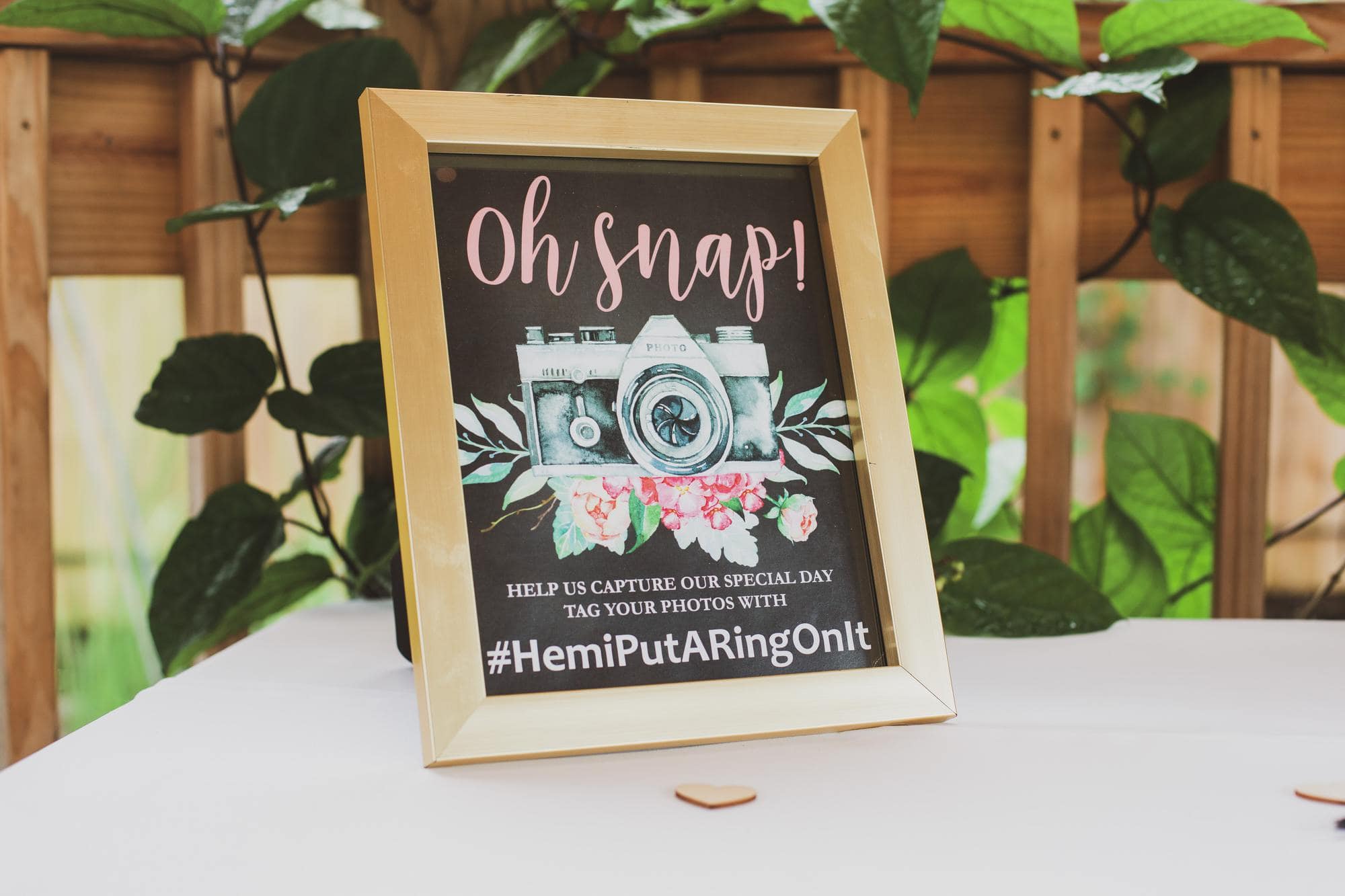 Wedding hashtags are pretty common these days. It's a way for all your guests to easily share photos of your big day with you anywhere on social media and you can find it. But the key is making sure your guests know about it. Signs or even having your officiant make an announcement after the recessional are great ways to make sure your guests know about it!
13) Take a moment to take it all in.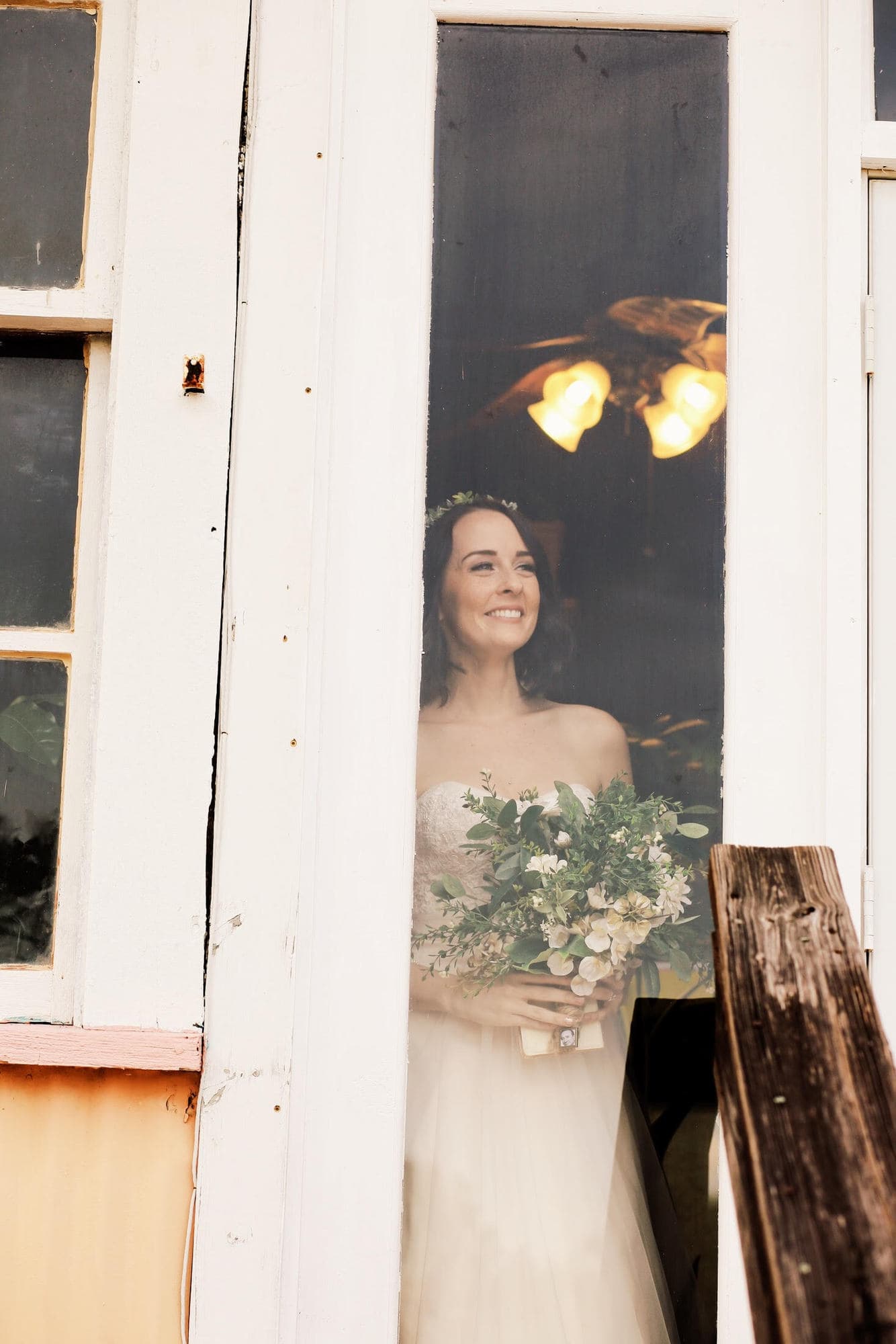 This photo of Brooke is everything. From that window she can see her guests as they are arriving but they can't see her. We love that she took this moment just to let the excitement wash over her. Look at that face!
What are some of your favorite clever ideas for a wedding?
Vendors included: Katherine Napier Photography/ Danielle Taufer Photography / La Empanada Food Truck / Gregatures Caricatures / Shelby Dunnam Photography / The Lemons Photography / April and Anna Photography / Megan Abbott Photography / Banana Blossom Cakes / Matthew Hayford Photography / Shannon Lee Miller Photography / Winship Photography / Bliss Katherine Photography